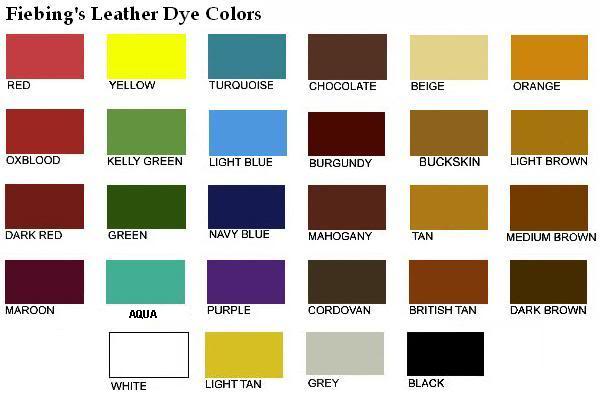 Leather is a premium material, so I guess it's no surprise that there are so many products available to help you keep it looking good.
Here are just a few of them.
I sourced these DIY leather repair and restoration products on the excellent Furniture Clinic site, designed to save you a small fortune on replacing expensive yet sad, scratched, knackered, tatty and past their best leather goods.
If you think your favourite leather item is on its last legs, think again and try your hand at one of these little beauties:
leather re-colouring balm – perfect for renovating the colour of worn leather
leather paint – idea for creative folk who fancy painting indelible designs directly onto leather
leather finish kit – just what you need to seal leather, get rid of stickiness, give it a cool matt finish or enhance the shine so you can see your face in it
leather colourant kit – great if you want to change the colour of leather or restore it if it's looking worn
shoe shine and colour restorer – restores the colour and shine to leather shoes and boots
antique leather finish kit – to re-apply colour to worn antique leathers
leather repair kit – repairs damage easily and quickly
leather stain remover – removes stubborn stains including transferred dye from fabrics, food stains, stickiness, varnish and paint
leather de-greaser – removes all types of grease and oil stains with minimum faff
mould remover – kills bacteria and mould
urine remover… ugh, nasty but true. If your child or pet has peed all over your lovely leather sofa or best Jimmy Choos, this is the bunny
leather ink remover – the best way to remove horrid ink stains from gorgeous leather goods
4 in 1 leather protection cream – special barrier protection technology feeds, treats and protects leather and even brings back that fabulous, posh new leather smell
white haze remover. Believe it or not the white powdery coating you sometimes find on old leather is actually called 'spew'. Noooooo!
leather ultra-clean deep-cleans seriously tatty leather
buy flexible leather glue for long lasting repairs
leather first aid kit, a comprehensive pack including all manner of professional products for keeping leather looking lovely… whether it's shoes, boots, a vintage chic chesterfield settee, wardrobe-pleasing leather jacket or your favourite handbag
leather protection cream – adds a layer that repels stains and protects leather from wear and tear
leather dyes by Tarrago, Fiebings or Dylon (all available on Ebay and / or Amazon), can be used for restoration and to create a brand new colour. Soaks into the leather for a great look and natural feel, with no stiffness. Available in a large choice of fab colours from seriously bright scarlet to deepest, darkest black